When my nephew was born, the first grandchild on my side, my mom told me that "being a grandparent was the best club that no one ever tells you about."
I love that grandparents are as interested in what your child ate for breakfast as you are. They have no qualms with reading the same book 100 times. When a baby is crying they will happily hold baby while mom or dad takes a break. Grandparents Day is a day to celebrate the bond between grandparent and child and for parents to say thank you!
To my own mom and dad, thank you for not only being a great grandma and grandpa but also for raising me. You don't know how hard it is to raise children until you do it yourself.
If you are like me and the grandparents live far away, we will be making phone calls on Facetime.
Want to make a gift for a grandparent? Below is one of our favorite gifts that we have ever made (I even made one for my husband and I).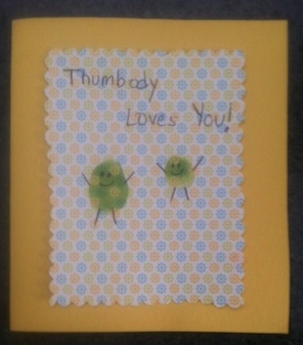 What you need:

Stamp Pad
Paper
Pen

1. Have your children press their thumbs onto the stamp pad.

2. Stamp the paper with their thumbs (try to put the thumbprints in a row).

3. Draw arms, legs, and faces on the thumbs.

4. Write "Thumbody Loves You" above the thumbprints.

5. You're done!

We used scrapbooking paper remnants for the thumbs and then glued that paper onto construction paper. On the inside of the card I wrote, "Happy Grandparents Day!"
LIKE THIS ARTICLE: Sandy Springs Dunwoody Macaroni Kid is a free weekly newsletter and website focused on fun family events and information in Sandy Springs, Dunwoody, Chamblee, Doraville, Atlanta, and Perimeter. We gather together all kinds of local family events and activities each week and add useful information about classes, family-focused businesses, book and product reviews, recipes, crafts, school and camp guides and more. We proudly serve families in Sandy Springs, Dunwoody, Chamblee, Doraville, Atlanta, and Perimeter! Sandy Springs Dunwoody Macaroni Kid is full of useful local information like this PLUS tons of kid-friendly events on our event calendar. Have an event you'd like submitted to our calendar for consideration? Submit an event here. Like what you see here and want to get all the fun delivered to your inbox weekly? Subscribe to our FREE weekly e-newsletter for 411 on the local family fun. You can find Sandy Springs Dunwoody Macaroni Kid on Facebook, Twitter, Instagram, and Pinterest.