Most children love the water. Just watch their eyes glow and hear them giggle in delight when they play in the bath, splash pads, pool, and fountains. Their natural curiosity and sense of adventure is pure joy to see in action, but it also can be daunting for some parents. I know my heart has skipped a few beats with my adventurous girl on many occasions.
Now, I know things have changed in our world due to the pandemic, even at our pools and beaches. Since many pools were closed during the pandemic, there were fewer kids taking swim lessons and access to training for lifeguard certifications was also limited. As folks were eager to get out and enjoy with their families and return to normal this summer, this also left our pools and beaches to become a high-risk play zone. There were unfortunate reports of drownings at pools and beaches, and a renewed need to educate folks about water safety and dangerous rip tides.
According to the Centers for Disease Control and Prevention, drowning is a leading cause of death for children. In the United States:
More children ages 1–4 die from drowning than any other cause of death except birth defects.
For children ages 1–14, drowning is the second leading cause of unintentional injury death after motor vehicle crashes.
These incidences are scary, but drownings can be prevented. Water safety and survival and learning how to swim are essential life-saving skills that every child and adult should take time to learn.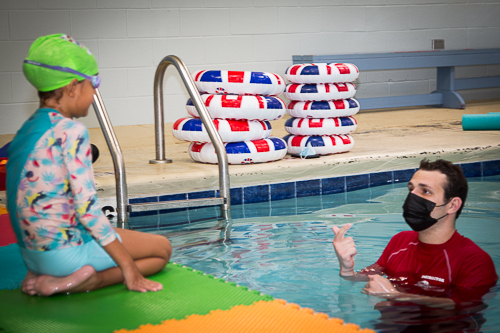 Partnership
It all started in a basement pool in England and now, 40 years and hundreds of thousands of lessons later, the focus of British Swim School has remained unchanged – to create safer swimmers.
Thanks to the Macaroni Kid and British Swim School (BSS) partnership, I enrolled my daughter in swim lessons this summer. I met with the British Swim School Atlanta owner, Jeff Chadwick, who owns the Roswell and Dunwoody locations. We are both very excited about this collaboration and promoting the importance of water safety and swim lessons for people of all ages and skills levels in our community. Jeff detailed the British Swim School's goal-oriented water survival curriculum and offerings.
British Swim School Difference
The first difference you will notice about the British Swim School is that the company does not own the pool and facilities. By partnering with fitness centers and using their indoor and heated pool facilities, British Swim School is able to focus 100% of its resources on providing high-quality swim lessons to its students. These indoor facilities allow students to continue and progress with their swim lessons regardless of the weather or season. My daughter's swim lessons were held at the Cecil B. Day Fitness Center in Dunwoody, Georgia.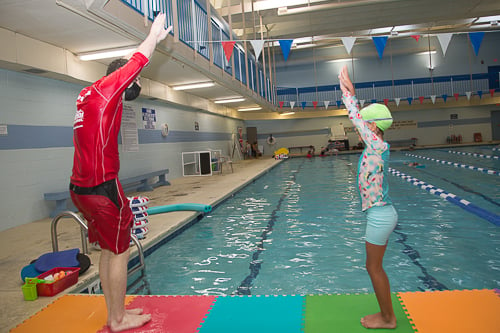 All instructors complete intensive British Swim School Instructor training and exams.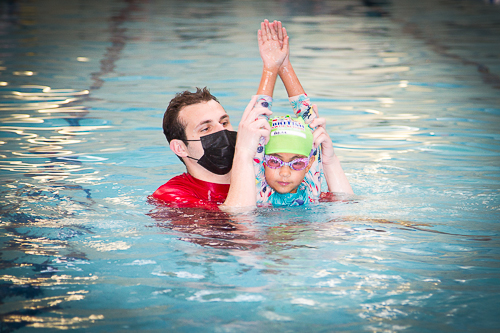 BSS focuses on skills that are often rushed or overlooked in other swimming programs. Students do not use floaties. During survival week, instructors focus on teaching survival skills in the water. BSS swimmers leave classes prepared to react to unexpected water situations. He also shared information specific to beach safety and surviving rip tides.
My daughter took lessons at another swim school in town years ago, and I shared our experience with the revolving door of swim instructors during her lessons. It seemed every few lessons, my daughter had a new instructor and her skills were not progressing. Jeff assured me of his commitment to hiring, developing, and taking care of talented, authentic, and caring swim instructors. British Swim School teaches for more than just the summer swim season, they are dedicated to teaching water survival and swimming year-round so swimmers can survive, thrive, and enjoy.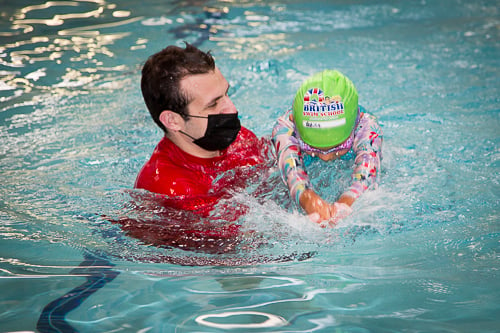 Learn more about the British Swim School's programs which focus on water acclimation, survival, and stroke development which are tailored specifically for various ages and skill levels on the program website.
About the Class
At the British Swim School, instructors prioritize water safety and fun. Their swim program offers survival swim lessons to children as young as 3 months old to adults. Children are not traumatized (crying) during or after their swim lessons. Each swim lesson is 30 minutes. Lessons are once per week.
If your schedule allows, BSS recommends enrolling students in classes twice per week. Students will benefit from consistency, practice, and repetition which improves their muscle memory and overall mastery of skills. Students will progress naturally and ultimately achieve their swim goals 3x faster.
All the classes are small, with a maximum of 4 students per class. This allows for more personalized instruction. Pre-pandemic, the younger classes with parents allowed for 6 students. Due to the current state of the pandemic, their swim school is still limiting to only 4 students per class. BSS shares a weekly calendar that focuses on a particular skill or swim stroke. Each child is given a colored British Swim School swim cap designating their swim class level.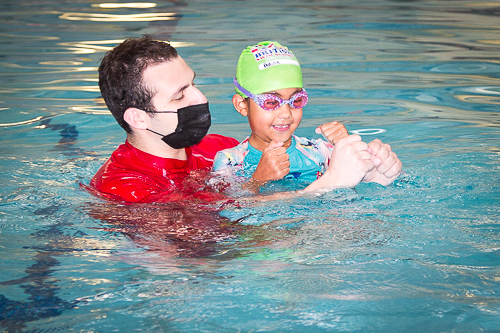 While BSS's #1 priority is nurturing safer swimmers, they also know that children learn better and have better retention when they're engaged and having fun! Their lessons are filled with high fives (fist bumps), songs, and fun movements like "monkey walks" and "shark arms." Your kids will have so much fun that they won't even realize they're learning real-life-saving skills!
My daughter's swim instructor, Justin, is also the Coach for BSS Barracudas Swim Team, a non-competitive pre-USA Swimming program. My husband thought my daughter's swim skills were at a Shark 1 level. Coach Justin assessed her skills at the first lesson and enrolled her in a class just one level below, Turtle 2. He identified areas that he needed to focus on with her to learn and improve her arm, leg, and breathing coordination for four different strokes (freestyle, backstroke, butterfly, and breaststroke).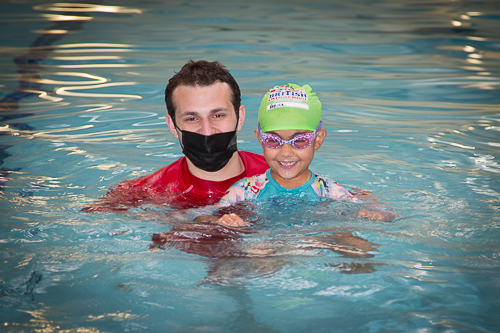 Coach Justin is obviously a passionate and very focused swim instructor. He is consistent and great with the kids. He is patient when demonstrating and teaching proper stroke techniques to the kids. He also helps them relax their bodies so their movements are fluid and they don't get tense in the water. I could see the improvement in my daughter's strokes and increased confidence after each lesson. It was fulfilling to see her swimming progress since the first few lessons and then move up to the next level - Shark 1. My daughter looks forward to her lessons with Coach Justin every week. He is structured, encouraging, and fun, as you can see from my daughter's smiles during her lessons. It's also been very exciting to watch the Olympic swim competitions because she can identify and swim some of the different strokes on her own now.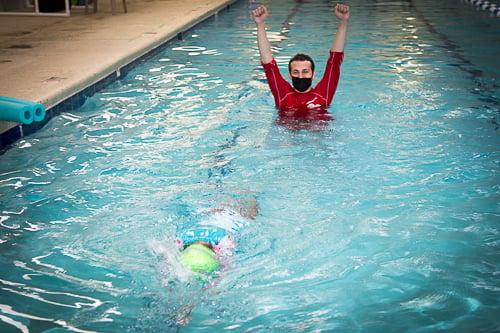 Adult & Special Abilities Class Offerings
Every student is different, and learning how to swim takes time. For students with special abilities, the British Swim School instructor will adjust the goals for each swim student. Some BSS instructors are certified to teach students with special abilities, such as mobility, autism spectrum, or students with ADHD. Swim lessons are not limited to only young kids, but also to adults who may not have had the opportunity to take lessons when they were children. I have friends who have never had swim lessons for various reasons. When they had children they realized that they need and want to take lessons to stay safe and enjoy the pool and beach more with their kids.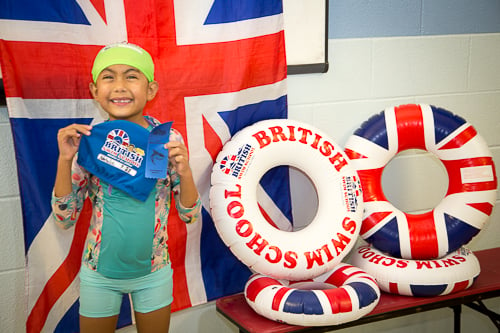 Swim lessons are a life-saving investment, so don't hesitate!
Visit British Swim School to learn more about their program and enroll today! British Swim School Atlanta can be reached at 770-212-2292 goswimatl@britishswimschool.com. Follow BSS on Facebook and Instagram.
This article is sponsored by the British Swim School, all opinions and images shared in this article are my own.