Live in-person performances, customized online programming, new special exhibitions, holiday events, and more. It's all part of the Fall and Winter season at the Center for Puppetry Arts.
Come fall in love with puppetry all over again! This season offers something special for everyone, anywhere – at the Center, online, and at your location.
Members can now purchase tickets for this season's return of Rudolph the Red-Nosed Reindeer. If you're not already a Member, now's a great time to join! Members will also receive an invitation to the preview of this year's holiday exhibition featuring the Rankin/Bass Rudolph & Santa puppets! Become a Member now at: puppet.org/visit/become-a-member/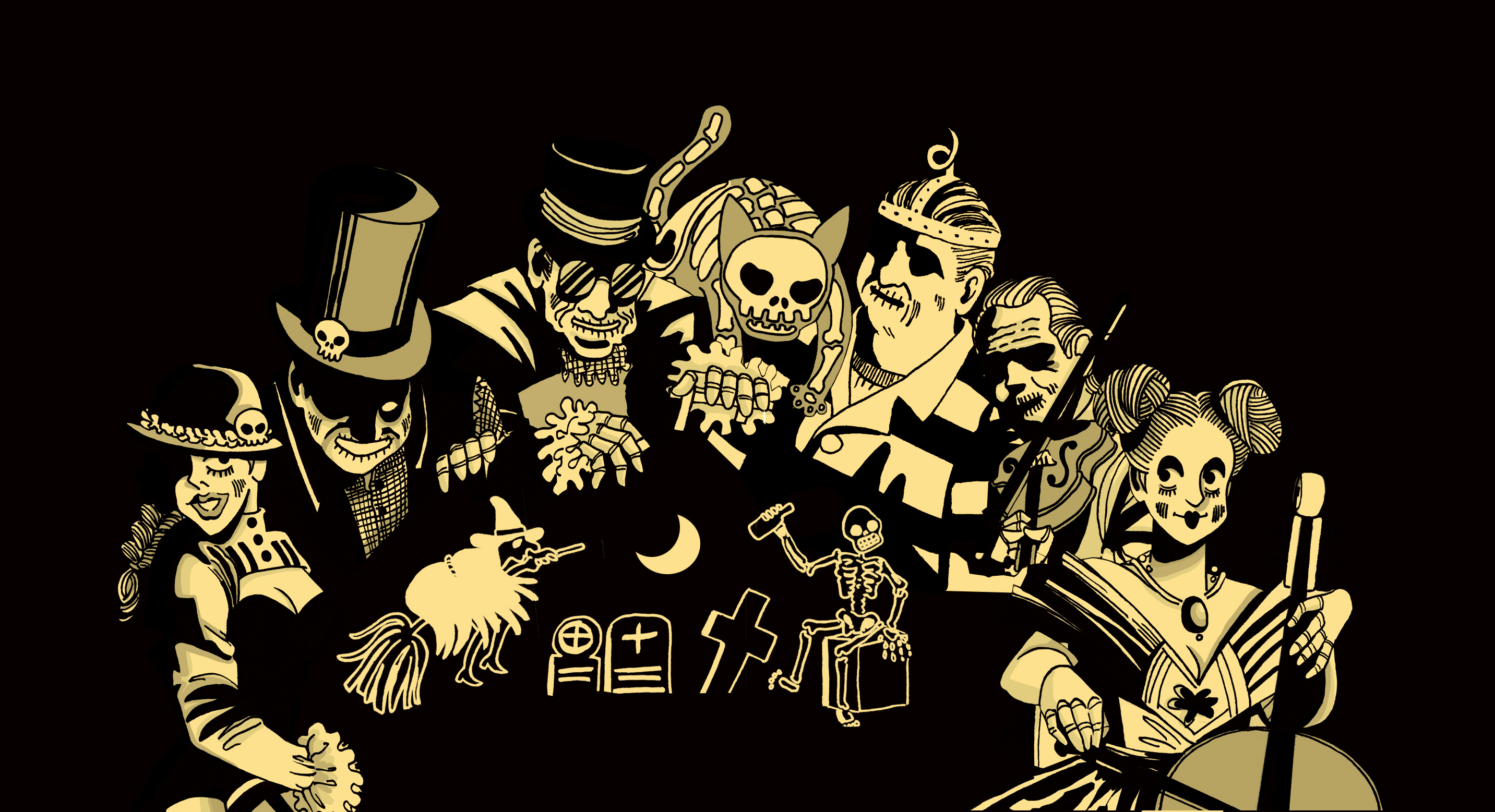 The Ghastly Dreadfuls returns! Running October 13-30, celebrate this Halloween with creepy stories, spooky songs, and devilish dances from around the world. Your favorite band of specters is back and deader than ever! Featuring classic Ghastly stories including The Girl in the New Dress, The 11:59, and The Horrific Experiment to tunes such as Mr. Ghost Goes to Town, and The Hoo-Doo Man, there's something for everyone. Adults ages 18 and up are encouraged to bring their most ghoulish friends, pull up a tombstone, and enjoy a cavalcade of songs and stories from beyond the mortal plane.
Starting October 15, the Family Series continues with Everybody Loves Pirates (ages 4 and up). Eight-year-old Lucy and her goofy pal Little Chucky are searching for buried treasure, but a gang of bumbling pirates keeps getting in the way! The kids get some help from their new ocean-dwelling friends, including enthusiastic superhero Lobster Boy, his reluctant sidekick Crabby, and an overgrown sea monkey. The performance features 15 hand-crafted mouth and rod puppets, an 8-foot paper-mache pirate ship, and loads of adventure for ages 2-12.
Beginning October 29, The Headless Horseman of Sleepy Silly Hollow (all ages) features a holiday classic with a comic twist. Schoolteacher Ichabod Crane helps the Headless Horseman find a new head and an even spookier image in this comedic version of the famous Washington Irving short story. Meanwhile, a jealous Brom Bones tries to run Ichabod out of town as they both vie for the affection of Katrina Van Tassel. In the end, the Horseman saves the day and everyone is "happy ever after!" Both performances are produced and performed by the Frogtown Mountain Puppeteers of Bar Harbor, ME.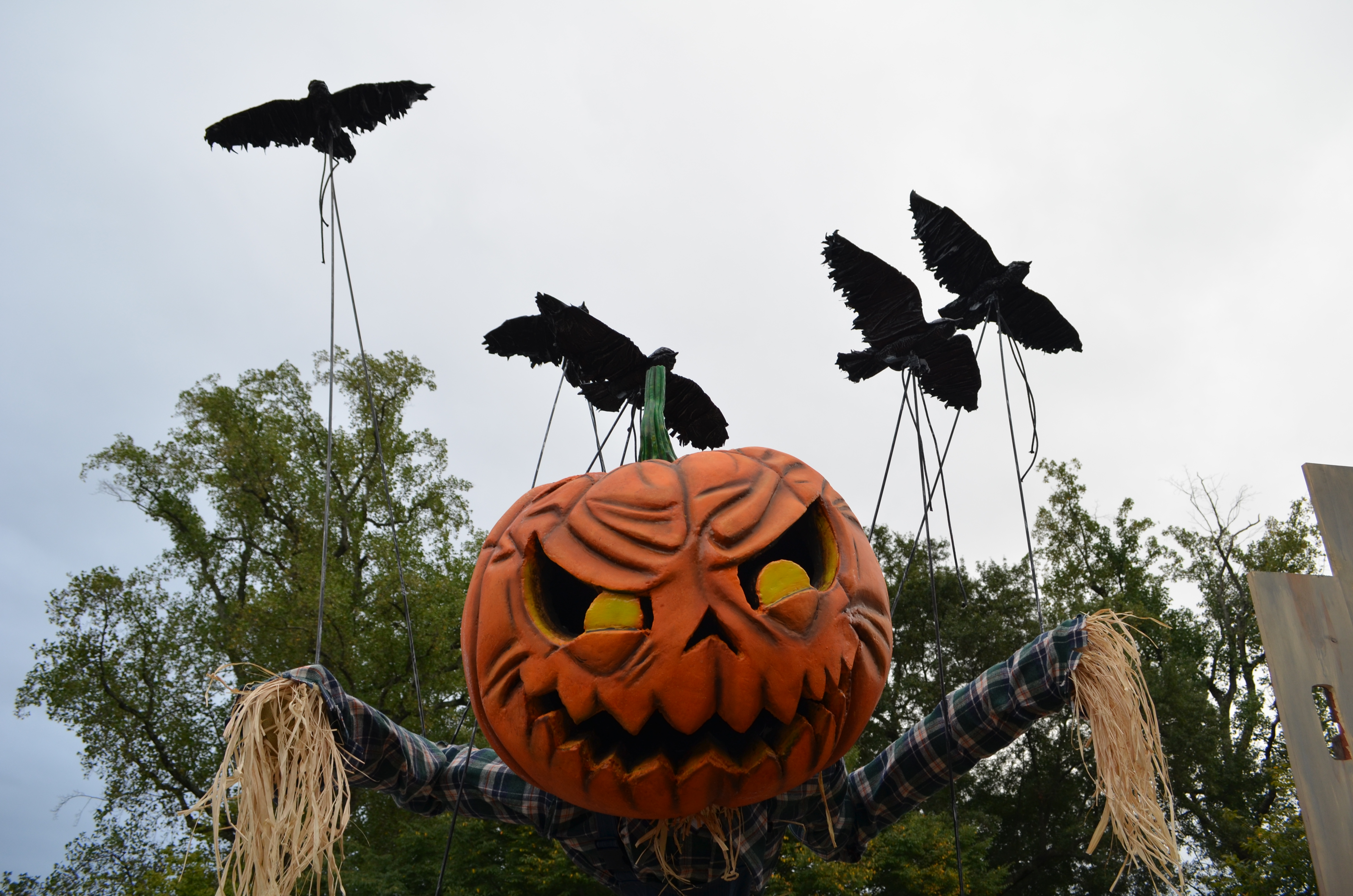 On October 30, put on your silliest, scariest costumes and celebrate Monster Mash! The Center's atrium will be completely transformed with owls, friendly goblins and skeletons, jack-o-lanterns, and more in a special pop-up exhibition Artist Profile: Chantelle Rytter's Parade Puppets. With the purchase of a Center ticket, festivities include trick-or-treating, the performance of The Headless Horseman of Sleepy Silly Hollow, the Create-A-Puppet Workshop, and entrance to the Worlds of Puppetry Museum. Trick-or-treating through the Worlds of Puppetry Museum may still be experienced with the purchase of a Museum-only ticket.
The Chantelle Rytter's Parade Puppets exhibition will be on display from October 1-30. Atlanta-based artist Chantelle Rytter works in the community-based medium of parades. She builds, animates, and illuminates large-scale sculptures to create playful shared experiences. Come see a selection of her work from Halloween lantern parades, learn more about the artist, and the larger history of parade puppetry.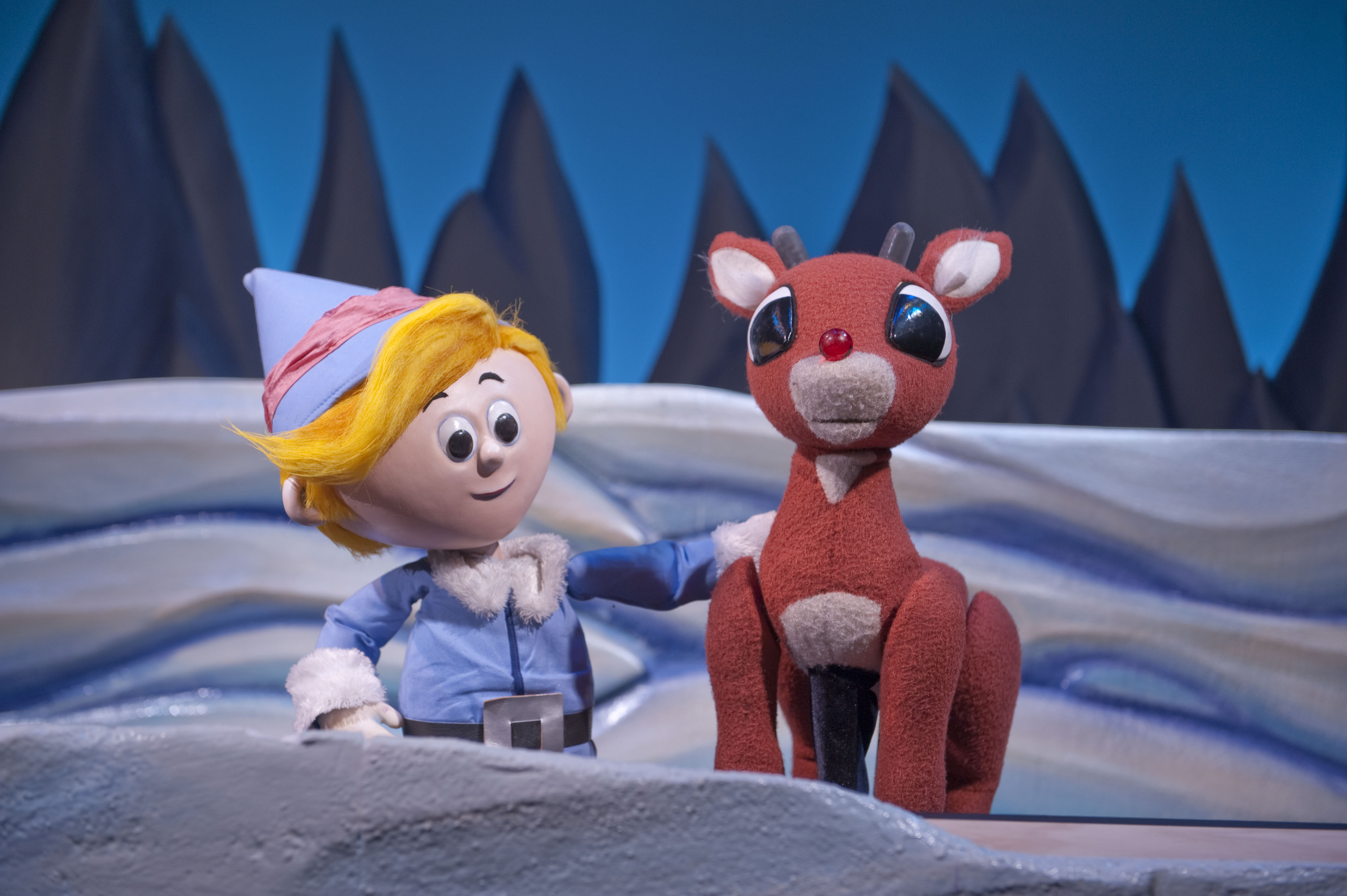 Don't miss Christmastown 1964, a special holiday exhibition running November 11-January 2. The Center for Puppetry Arts has showcased Rudolph the Red-Nosed Reindeer™ for 10 years. This year, the Center is digging into the history of the classic holiday tale. The halls will be decked in vintage-style décor. In addition, the Center is thrilled to welcome to Atlanta the Rudolph and Santa puppets from the original Rankin/Bass production. On exhibition for the first time since 2006, these unique figures are on long-term loan to the Center for Puppetry Arts after their recent sale at auction. Visitors to the museum will learn about the history behind the iconic poem-turned-song Rudolph the Red-Nosed Reindeer, and the classic 1964 Rankin/Bass Productions stop motion television special of the same name.
On November 13, the Center welcomes you to take a holiday photo with one of the puppets from Rudolph the Red-Nosed Reindeer™ as part of your visit to the Center. Festivities continue on November 20 as the Center hosts a Yukon Cornelius Look-Alike Extravaganza! Grab a beanie and a beard and channel your inner arctic prospector energy! Visit during open hours for photo ops in the North Pole and mingling with your fellow Cornelii. Then, stay for a special evening event that will include a runway-style costume contest. This event is an inclusive, all-gender, race, and age costume contest. Tickets are required for an evening event.
The Center's Fall and Winter Season would not be complete without Rudolph the Red-Nosed Reindeer™, returning November 10-January 2 in our newly redesigned mainstage theater. Rudolph soars back into town for this faithful adaptation that speaks to the misfit in all of us. Based on the beloved 1964 stop-motion animated special, Rudolph and his friends Hermey the Elf and Yukon Cornelius brave the Abominable Snow Monster and the even more daunting fear of not fitting in before discovering that it's okay to be just the way they are! With fun holiday music, finely crafted puppets and an important prosocial message, Rudolph is sure to warm hearts even on the most blustery winter day. Adapted by Jon Ludwig and directed by Tim Sweeney.
A Center ticket includes 3 activities: the performance, the Worlds of Puppetry Museum and the Create-A-Puppet Workshop™. In the workshop, guests are invited to build, decorate and perform with their own puppet on the Center's classroom stage. The puppets are based on the characters and style of puppetry in each individual production. This season's Create-A-Puppet Workshops™ feature the Shy Sheep Hand Puppet to accompany Mother Goose, a Plundering Pirate Hand Puppet to accompany Everybody Loves Pirates, a Silly Cyclops Hand Puppet to accompany The Headless Horseman of Sleepy Silly Hollow, and a Rudolph the Red-Nosed Reindeer™ Shadow Puppet to accompany Rudolph the Red-Nosed Reindeer™.
The Center Sensory-Friendly Sundays also return this season. Guests with sensory sensitivities (such as Autism Spectrum Disorder) and other developmental differences are invited to experience the Center in a comfortable and judgment-free setting, supported by trained and experienced staff members. Each component of the Center's programming is modified to reduce sensory stimuli including adjusted lights and sound, freedom for children to talk or leave their seats, and a quiet zone in the lobby. Create-A-Puppet Workshops™ are brighter, quieter, and include slightly-simplified puppet designs and less-messy materials if needed. Museum exhibitions feature adjusted lighting and specialized educational activities. Sound-reducing headphones, light-reducing sunglasses, fidget toys and social stories are available upon request, too.
| | |
| --- | --- |
| | |
Puppet Playdates continue this season on the third Saturday of each month featuring Camp Whachyawannado (August 21), The Little Red Hen & the Grain of Wheat (September 18), Celebrating Día de los Muertos (October 16), Captain Healthy and the Safety Dog (November 20), and The Velveteen Rabbit (December 18). This new online, LIVE and interactive programming has been created specifically for individuals and families worldwide who enjoy the Center online together in the comfort of their own homes.
Discovery Days are back! These in-person, interactive programs are a hands-on exploration of puppetry traditions from cultures around the world. Discovery Days include storytelling from page-to-stage with puppet performances, a puppet creation station, and a discover puppetry cart (a mobile museum experience). This year's sessions are focused on different cultures across Africa (Aug 17, 2021) and Europe. (Aug 31, 2021). The program is crafted for children ages 2-12 and their accompanying grown-ups.
The Center maintains its dedication to a safe environment for its staff and guests by requiring masks, encouraging social distancing, limiting capacity and frequent cleanings.
TICKETING
Ticket prices vary for performances and other programs. Prices are available at puppet.org or by calling 404-873-3391. Based on availability.
FALL AND WINTER 2021 FAMILY SERIES PERFORMANCES
Everybody Loves Pirates Oct. 15-24
The Headless Horseman of Sleepy Silly Horseman Oct. 29-Nov. 7
Rudolph the Red-Nosed Reindeer™ Nov. 10-Jan. 2
FALL AND WINTER 2021 SENSORY-FRIENDLY SUNDAYS
Rudolph the Red-Nosed Reindeer™ Nov. 14
FALL AND WINTER 2021 ADULT PROGRAMMING
The Ghastly Dreadfuls Oct. 13-30
FALL AND WINTER 2021 MUSEUM PROGRAMMING – All Ages
Artist Profile: Chantelle Rytter's Parade Puppets – Pop-up Exhibition Oct. 1-31
Christmastown 1964 – Special Exhibition Nov. 11-Jan. 2
FALL AND WINTER 2021 DIGITAL PROGRAMMING
Puppet Playdate: Celebrating Día de los Muertos Oct. 16
Puppet Playdate: Captain Healthy and the Safety Dog Nov. 20
Puppet Playdate: The Velveteen Rabbit Dec. 18
FALL AND WINTER 2021 SPECIAL EVENTS – All Ages
Monster Mash Oct. 30
Photo Op with a Rudolph puppet Nov 13
Yukon Cornelius Look-Alike Extravaganza Nov. 20