Looking for Ideas for your Elf on the Shelf or Mensch on the Bench
Get your FREE printable elf planning calendar here:
With a behavior meter that gives your elf a reason to stay put, a scavenger hunt to get your kids on the move, a calendar of daily inspiration, and a goodbye letter from your favorite Christmas elf, it's now up to you to decide... is your elf staying on the shelf or roaming around your home?
Time to give yourself an Elf break this season!
Macaroni Kid wants to make elf surveillance super easy for you this year by providing a printable behavior meter to add to your seasonal shenanigans.
To make things even more special for parents, we've added a little note to accompany the meter, and... bonus! This note gives your elf reason to stay right where it is!
All you have to do:
Download the FREE printable.
Cut out the pieces you need.
Connect the arrow to the meter with a brad so that it spins.
Have some fun!
If you really feel like taking a hands-off approach, simply point the meter at "nice list" and leave it be all season. After all, aren't they all really perfect little angels?
Grinch warning: Please use the behavior meter with parental care, as some children might be upset if their meter points toward the "naughty list." Don't say I didn't warn you!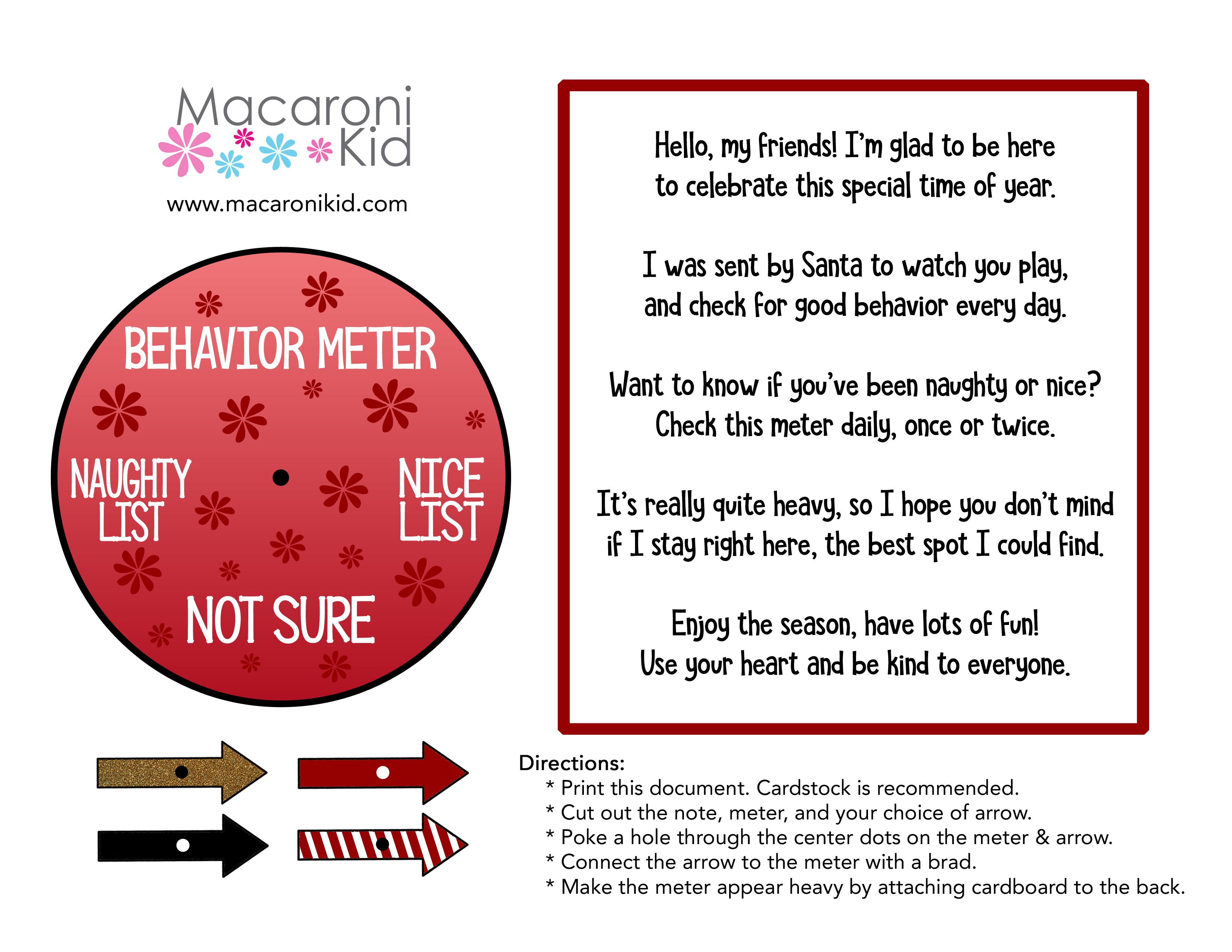 Sarah Hauge is the publisher of Macaroni Kid Englewood-Greenwood Village-Centennial, Colo.
The Rudolph Flu is rampant. Does your Elf need a few days to recover? Here is a prescription to share with your kids to give your Elf a few days off. Please download the Rx by clicking on the graphic.

This is for entertainment purposes only. Not a real Doctor or a prescription!
Scavenger Hunt and Goodbye Letter
Even if your elf is staying in one place this year, the kids can still be on the go.
When your elf comes back for the season, he/she can set up this fun scavenger hunt for the kids... all YOU have to do is cut them out and hide them with the prize.
The hardest part is deciding what's waiting at the end! The elf could either be holding the first clue or be what's hiding behind the tree. Or maybe the prize at the end is a Christmas book, a treat, or an advent calendar?
Whatever it is, it's going to be a fun way to start the holiday season!
And of course, we couldn't forget about the elf's big goodbye after such a fun entrance, so we've included a letter to address to your family and sign from your elf. Plus, there are some bonus accessories on the page that you can cut out and use in your elf scenes!
Get your FREE printable scavenger hunt and goodbye letter here:
Only in 2020: Free Elf on the Shelf Quarantine Printable
This year my family is trying to continue as many traditions as possible, despite having to really get creative on how some of those traditions are celebrated.
One of the ways we're getting creative this year is by putting our Elf on the Shelf in quarantine during his first days at our home.
We want to make sure our Elf helps us stay healthy, and yet we don't want him to miss out on the holiday fun! This quarantine, of course, means he can't move for at least a few days ... surely I'm not the only person who feels a bit of relief at that news.
But you can still keep up the fun with this free printable! This way everyone knows the Elf is in quarantine. Do. Not. Disturb.
Get your FREE Only in 2020: Free Elf on the Shelf Quarantine Printable.
Click on the picture below for more great information!
| | | |
| --- | --- | --- |
| | | |
LIKE THIS ARTICLE: Sandy Springs Dunwoody Macaroni Kid is a free weekly newsletter and website focused on fun family events and information in Sandy Springs, Dunwoody, Chamblee, Doraville, Atlanta, and Perimeter. We gather together all kinds of local family events and activities each week and add useful information about classes, family-focused businesses, book and product reviews, recipes, crafts, school and camp guides and more. We proudly serve families in Sandy Springs, Dunwoody, Chamblee, Doraville, Atlanta, and Perimeter! Sandy Springs Dunwoody Macaroni Kid is full of useful local information like this PLUS tons of kid-friendly events on our event calendar. Have an event you'd like submitted to our calendar for consideration? Submit an event here. Like what you see here and want to get all the fun delivered to your inbox weekly? Subscribe to our FREE weekly e-newsletter for 411 on the local family fun. You can find Sandy Springs Dunwoody Macaroni Kid on Facebook, Twitter, Instagram, and Pinterest.