I was recently invited to go to Lanier World for this review. My opinions as always are mine and my families. Disclaimer In the past, I have purchased season passes.
Unfortunately, due to my broken ankle, I was unable to participate in the water park or beach. But I was able to bask in the sun and hear my children's laughter.
We walked into the Lanier World and a huge wave pool was in front of us. From the website "Georgia's largest wave pool, perfect for cooling off kids and parents alike! Wade into the waters of WildWaves or grab a tube and float". My youngest loved the wave pool. She loved the sensation of the ocean and just relaxing in the water. At the end of the day, her eyes were barely open from all the fun.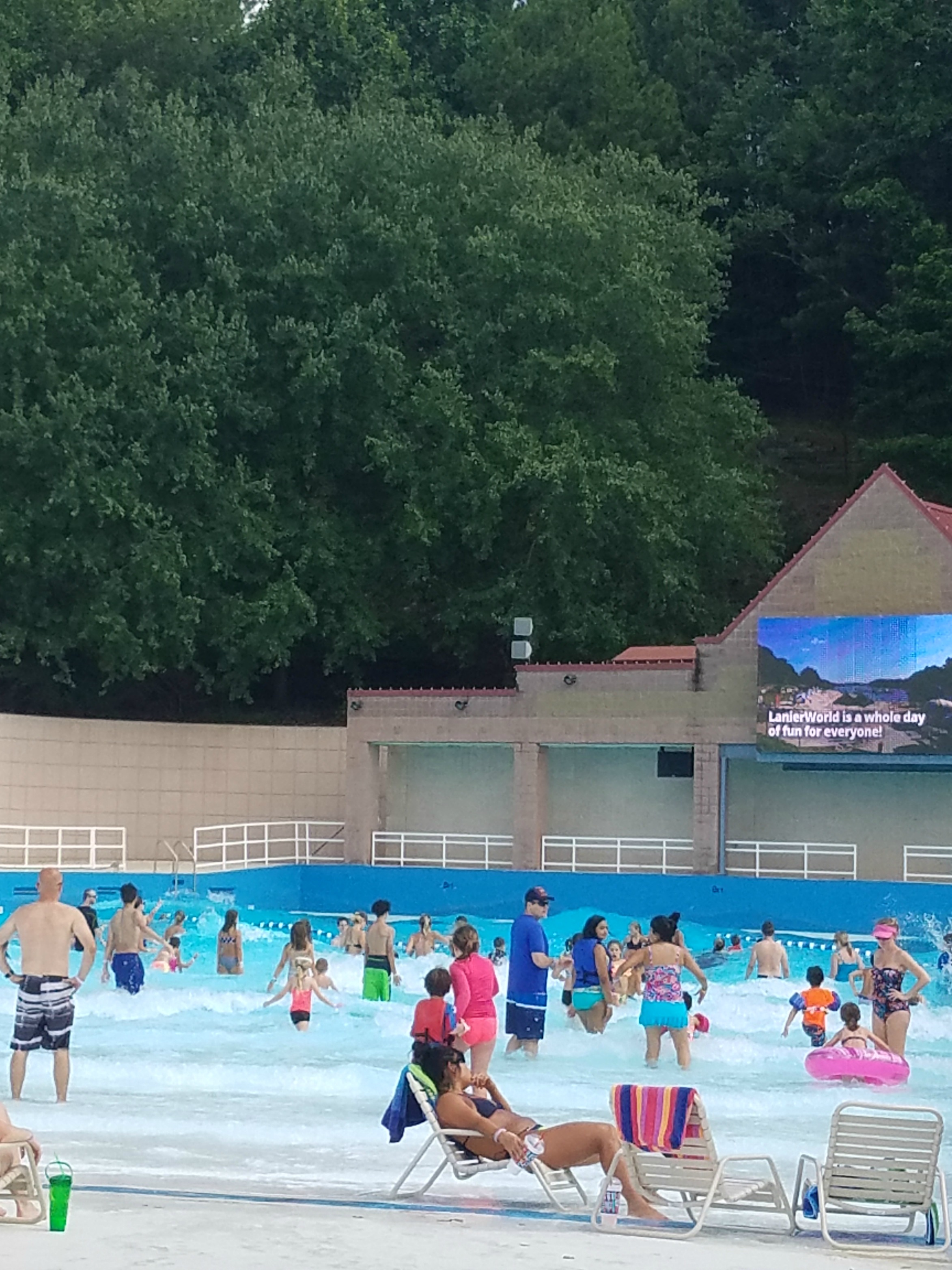 Every weekend at the Wave Pool, they have Splash in Movies.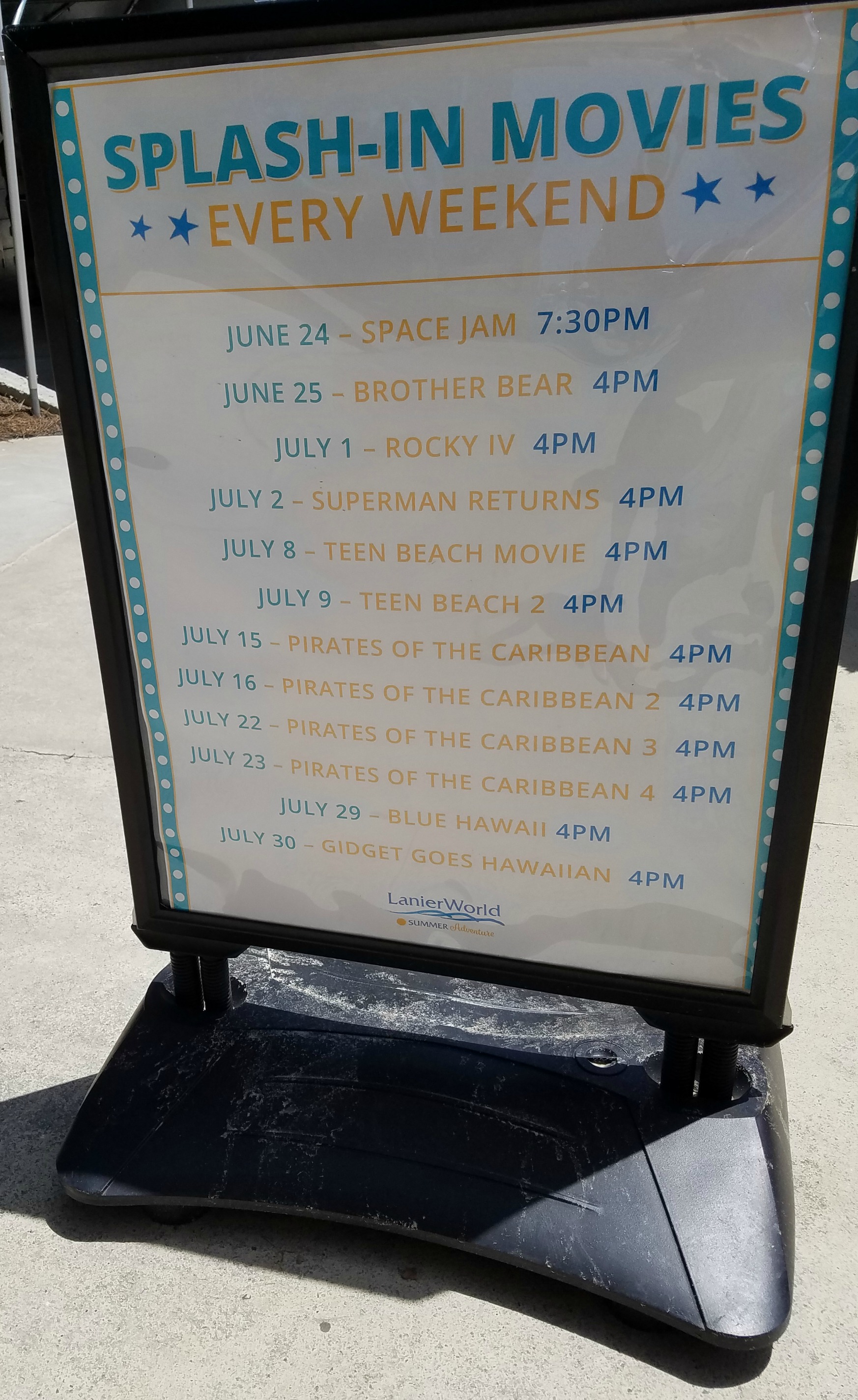 To the right of the wave pool, they have a foam party. Kids are submerged into foam.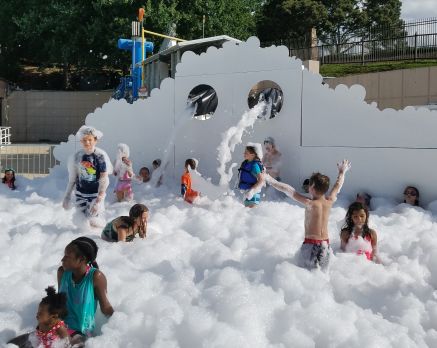 To the left of the Wave pool was Raging Rivers. My kids and my husband loved grabbing a float and just relaxing on the rapids. 
When we arrived at Lanier World though, we went straight to the Big Beach. Lanier Islands gave me a wheelchair. I wasn't sure how my boot would tolerate the sand since I can't do grass well.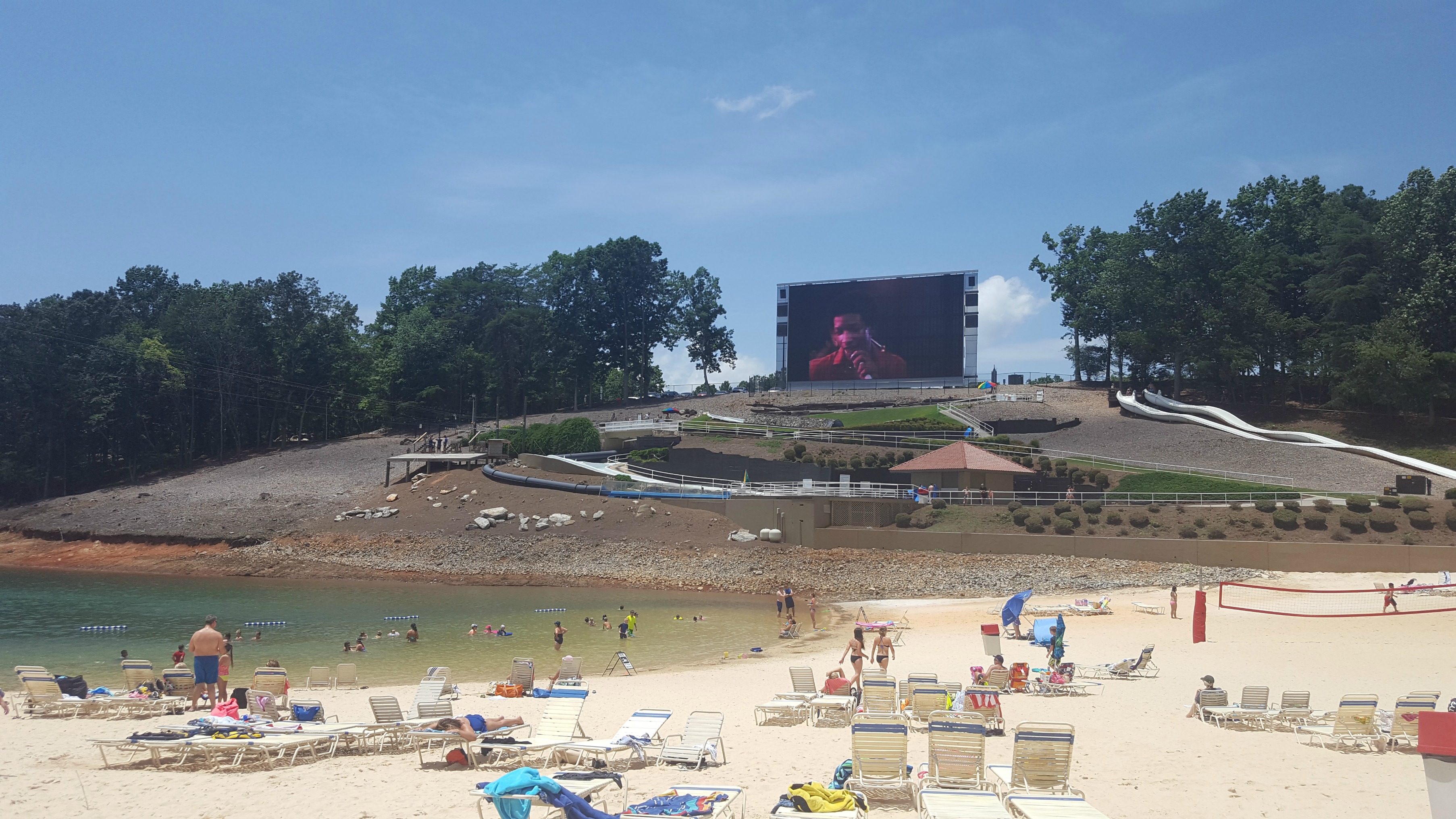 My kids and husband went running to the lake first. There's a half a mile of white beautiful sand. And lots of places to swim and play. Please be aware that it is swimming at your own risk, there are no lifeguards here. The water is not deep, but for little ones, it can be.
My two oldest children went to the blackout, double down, and splashdown. The blackout is total darkness and rapid fast. While they were on double down you get to raise against your friends. My son (13) beat his sister (12). While on splashdown, you race each other again. However, it feels like you are in a car because of the mats.

After my older children returned, my husband took all three of the kids to the other side of the boardwalk. Here is the twister, typhoon, FunDunker Drop, CAT4, intimidator and triple threat.
While on CAT4, you get covered in foam and then plunge into the lake. On the triple threat, you go over three mountainous bumps and land into a pool of water. Intimidator is for the faint of heart, it's going straight down into a large pool of water. Twister is an open waterslide where there is a 360-degree loop where you can also land into a pool of water. FunDunker Drop, I call the toilet bowl. From the website "climb four stories to gain entry to this high-speed slide that sends riders swirling round and round before the freefall into the 8' pool below". My youngest played in the FunDunker playhouse while my husband and older kids were waiting in line.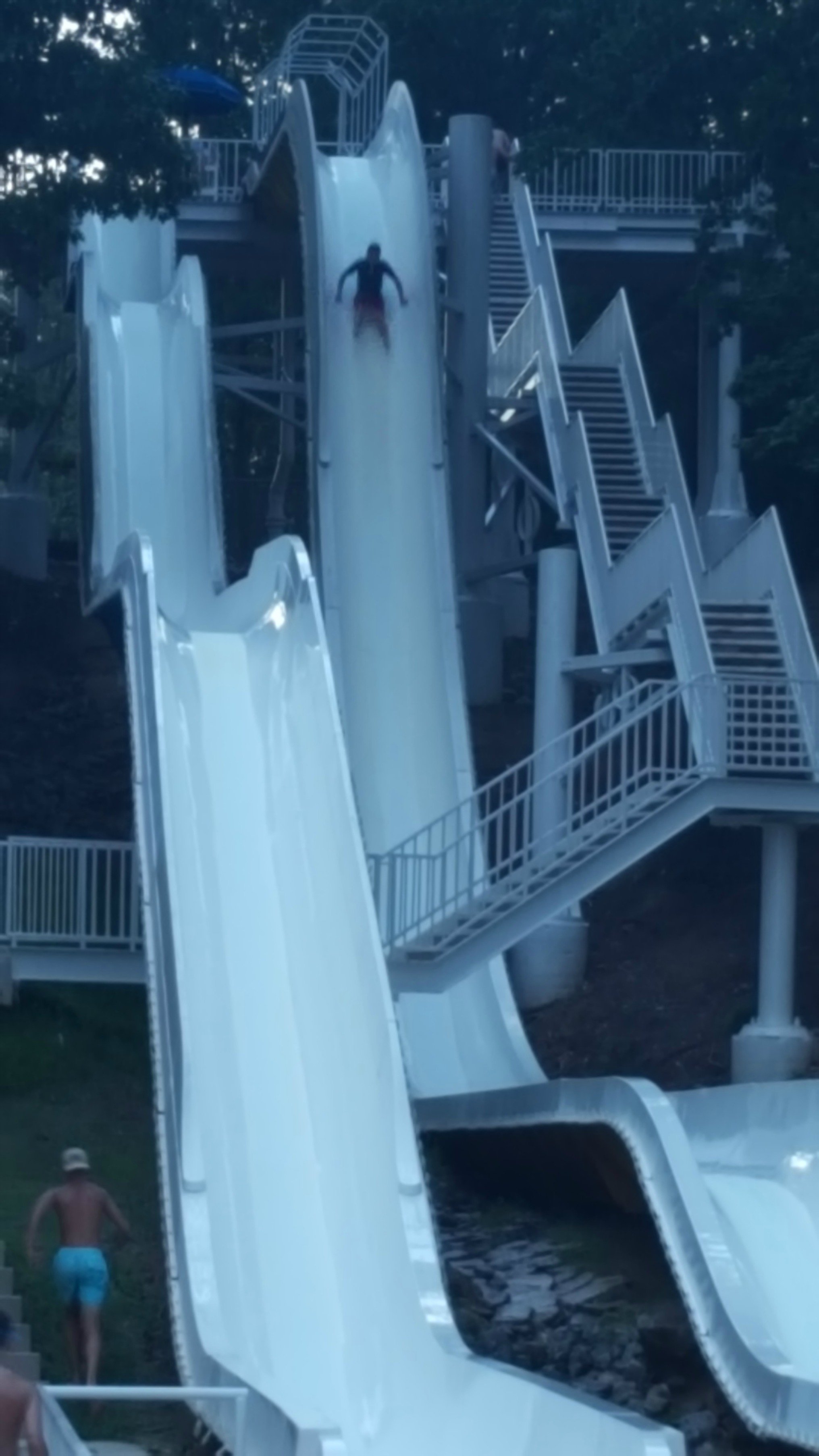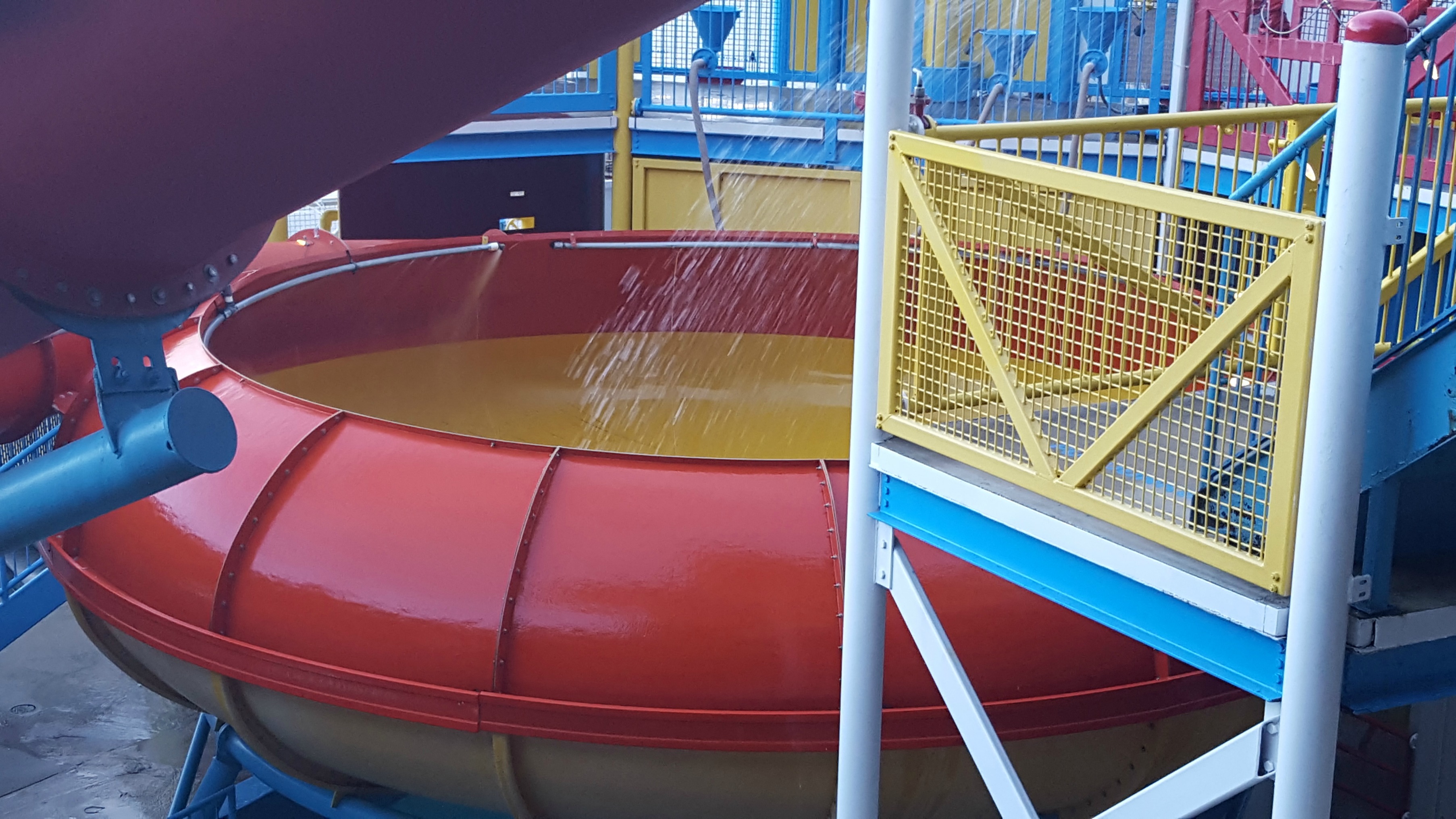 Lanier World is having a 4th of July Celebration. More details can be found HERE. 

Entrance to Lanier World is $41.99 for adults, $30.99 for children. Please be aware it does not include Thunderbolt: Triple Zip. Parking is an additional $15 per car. 
Lanier World summer hours are until August 5, 2017. Saturday 10am -10pm, Sunday 10am - 7pm, weekdays 10am -9pm. Please check the calendar for individual days, especially holidays. After August 6, Lanier World is open 10 am - 9 pm on Saturdays and 10 am - 7 pm on Sundays.
Tickets can be purchased HERE. 
We love going to Lake Lanier, it feels like a vacation spot that is under 30 minutes away. I just wish, I could have played in the water. 
Lanier Islands is located at 7000 Lanier Islands Parkway in Buford (30518). They can be contacted at 770-945-8787. They are located on Facebook, Twitter, Instagram, and Pinterest. 

LIKE THIS ARTICLE: Sandy Springs Dunwoody Macaroni Kid is a free weekly newsletter and website focused on fun family events and information in Sandy Springs, Dunwoody, Chamblee, and Doraville. We gather together all kinds of local family events and activities each week and add useful information about classes, family-focused businesses, book and product reviews, recipes, crafts, school and camp guides and more. We proudly serve families in Sandy Springs, Dunwoody, Chamblee, and Doraville! Sandy Springs Dunwoody Macaroni Kid is full of useful local information like this PLUS tons of kid-friendly events on our event calendar. Have an event you'd like submitted to our calendar for consideration? Submit an event HERE. Like what you see here and want to get all the fun delivered to your inbox weekly? Subscribe to our FREE weekly e-newsletter for 411 on the local family fun.
(Photo credit Lynne Westbrook Publisher Macaroni Kid Blue Ridge)