I was recently given two tickets to view the new production Cinderella Della Circus at Center for Puppetry Arts in Atlanta. This review expresses my personal opinions.

Cinderella Della Circus is adapted and directed by Jon Ludwig and was performed with marionette puppets. It brings puppetry and the circus together in a magical fairytale.

In this re-telling of the classic Cinderella, we met several circus friends including Oliver the elephant, Cornelia the "Zebracorn" and Cinderella the tightrope walker who speaks only in rhyme with unkempt hair and oversized feet. The crowd is also introduced to Stretcho who's song drew in the audience with singing along and clapping. When the circus ringmaster rockets to the moon, the cruel Madame Bullie takes over the circus. Cinderella is forced to cook and clean. How will she be able to perform at the Prince's Ball? With the help of her circus friends of course! Cinderella performs her tightrope routine and falls in love with the prince's brother. 
The children in attendance seemed to love the huge sparkling "glass slippers" Cinderella wore for her routine at the Ball. I think the show is great for a wide age range of children and girls and boys alike. If time is short and you don't have time for the create-a-puppet workshop you can stop at the box office and pick up a kit to take home. The Stretcho made with the kit is adorable!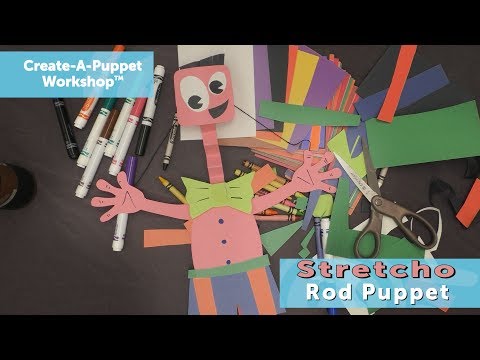 Cinderella Della Circus runs at Center For Puppetry Arts through July 23. Show times are Tuesday-Friday 10 am and 12 pm, Saturday 11 am, 1 pm and 3 pm and Sunday 1 pm and 3 pm (no shows July 4th).
Tickets are $19.50 (non-members) and $9.75 (members). Every person ages 2 & up require a ticket.  The ticket include admission to the show, the museum, and the create-a-puppet workshop. 
For more information or tickets please call (404) 873-3391 or visit HERE.
The Center for Puppetry Arts is located at 1404 Spring St. NW at 18th Atlanta, GA 30309-2820.  They are on Facebook, Twitter, YouTube, and Instagram.   

LIKE THIS ARTICLE: Sandy Springs Dunwoody Macaroni Kid is a free weekly newsletter and website focused on fun family events and information in Sandy Springs, Dunwoody, Chamblee, and Doraville. We gather together all kinds of local family events and activities each week and add useful information about classes, family-focused businesses, book and product reviews, recipes, crafts, school and camp guides and more. We proudly serve families in Sandy Springs, Dunwoody, Chamblee, and Doraville! Sandy Springs Dunwoody Macaroni Kid is full of useful local information like this PLUS tons of kid-friendly events on our event calendar. Have an event you'd like submitted to our calendar for consideration? Submit an event here. Like what you see here and want to get all the fun delivered to your inbox weekly? Subscribe to our FREE weekly e-newsletter for 411 on the local family fun!