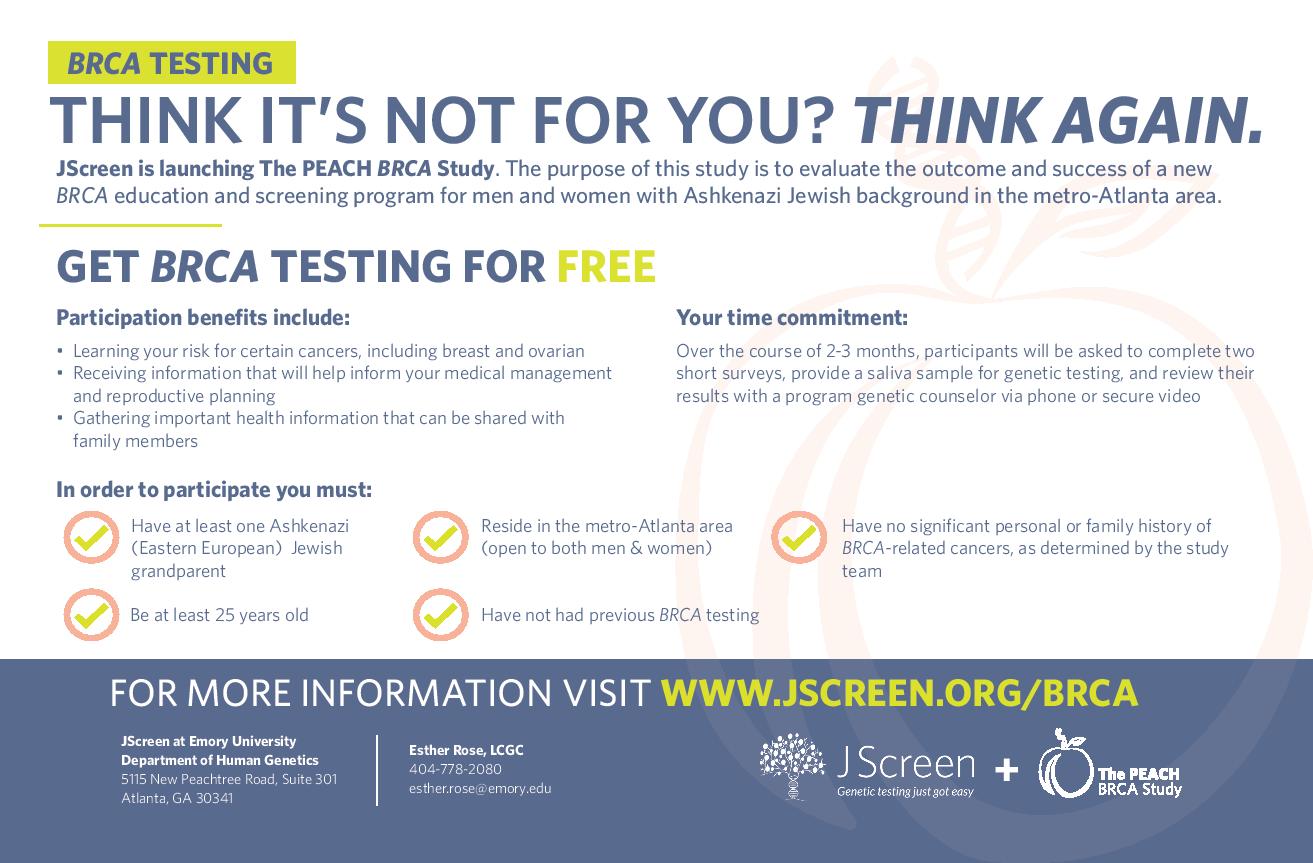 J Screen partnered withEmory University's JScreen program and Winship Cancer Institute to introduce JScreen's PEACH (Program for Evaluation of Ashkenazi Cancer Heritability) BRCA Study, which includes FREE testing.
Did you know? Ashkenazi (Eastern European) Jews are at 10 times greater risk to have a mutation in the BRCA1 or BRCA2 gene, regardless of their personal or family history of cancer. A BRCA mutation puts a person at higher risk for certain cancers, including breast, ovarian, pancreatic and prostate. Anyone with a mutation also has a 50% chance of passing it down to each of his/her male and female children.
Rochelle Schube, who carries a BRCA1 mutation, considered all of her options when she learned she was at high risk for cancer. She shares, "It was not an easy decision to have surgery. To some, it may seem like an extreme choice. For others, those who have experienced family member after family member being diagnosed with cancer, it's a lifeline - an opportunity to take back some power and control in a seemingly powerless situation. I don't want to disillusion anyone into thinking it's a simple journey, it's been tough, but it's a decision that I'll never regret." Rochelle, her mother Maxx and sister Alana, all BRCA1 positive, were honorees at the 2016 Hadassah Breast Strokes event.
For more information on JScreen and the PEACH BRCA Study. Please visit to learn more about what Hadassah Medical Organization (HMO) is doing for BRCA & Breast Cancer Research.
Please visit J Screen to get tested.
Personally, I am being tested in September. My Grandmother fought and lost her battle to Ovarian Cancer. I am an Ashkenazi Jew. Update - I was tested in September. I am BRCA 2+. I had my Ovaries removed in January. I have 2 MRIs (pancreatic and breast), colonoscopy, dermatology, and countless other appointments to make sure I am healthy.
To learn more.
LIKE THIS ARTICLE: Sandy Springs Dunwoody Macaroni Kid is a free weekly newsletter and website focused on fun family events and information in Sandy Springs, Dunwoody, Chamblee, Doraville, Atlanta, and Perimeter. We gather together all kinds of local family events and activities each week and add useful information about classes, family-focused businesses, book and product reviews, recipes, crafts, school and camp guides and more. We proudly serve families in Sandy Springs, Dunwoody, Chamblee, Doraville, Atlanta, and Perimeter! Sandy Springs Dunwoody Macaroni Kid is full of useful local information like this PLUS tons of kid-friendly events on our event calendar. Have an event you'd like submitted to our calendar for consideration? Submit an event here. Like what you see here and want to get all the fun delivered to your inbox weekly? Subscribe to our FREE weekly e-newsletter for 411 on the local family fun. You can find Sandy Springs Dunwoody Macaroni Kid on Facebook, Twitter, Instagram, and Pinterest.