Disclosure: I received The Outsideologist Project kit and compensation for this article. All images, thoughts, and opinions expressed are 100% my own.
Summer is in the air! It's time to get the kids outside to soak up their sunshine vitamins, explore, discover, and join The Outsideologist Project. You'll be amazed how the little things in nature will blow their young minds! The Outsideologist Project, presented by the makers of Claritin®, is a multi-year initiative with the goal of getting 1.2 million kids to spend an extra hour outside each week.
Studies Reporting the Benefits of Being Outdoors:
Boosts Mental Health - Less reported stress, improved satisfaction/positive moods
Boosts Social Health – Helps to build confidence, creativity, responsibility, and promotes happiness spending quality time with friends and family
Boosts Physical Health - Moving and playing outdoors helps the kids get stronger, build stamina, agility, and burn calories
Feeling like you haven't been outside lately with your kids? Don't worry, you're not alone! A new survey from the makers of Claritin® found that 72% of parents surveyed believe their family doesn't spend enough time outside. But when they do get outside, 49% of parents surveyed report that their kids find the outdoors boring. Claritin® is on a mission to get more children and their families outside, exploring the wonders nature has to offer. The initiative provides families with expert-guided activities to bust boredom and foster a love of the outdoors.
Macaroni KID and Claritin® have joined forces to provide your family with fun activities to make the outside un-boring!
Between work and school all week, our family tries to prioritize quality time outside. Thankfully, in Georgia, we have gorgeous state and national parks, the Chattahoochee River, and several local playgrounds and green spaces to explore. Thanks to Claritin®, we can enjoy the outdoors without having to worry about our allergies. We're so excited to partner with Claritin® to show kids the wonders nature has to offer. Check out some of our favorite outdoor adventures and activities. We hope you will find new ways to enjoy the beautiful warm weather and reap the benefits of exploring the water and green spaces around you.
Grab your sunscreen, hat, and water, and get ready to laugh, play, explore, and make some fun memories.
Make a bird feeder
Build a fort or a tent
Start a vegetable/fruit garden
Visit the Atlanta Botanical Garden
Go fruit picking at a local farm
Hike at a new trail or State Park
Go on a scavenger hunt (nature, Tiny Doors, or ClueTown)
Look for wildflowers or insects
Try geocaching
Look for cloud art/shapes
Play at new playgrounds
Bike/Scoot/Skate with your friends
Relax on a hammock and read
Bring a camera and go on a photo walk
Enjoy a picnic outdoors
Make and pop giant bubbles
Hula hoop
Fly a kite
Play a sport
Go kayaking
Go fishing
Draw a chalk art or an obstacle course
Stargaze at night



Please remember, give plants and animals space and leave no trace when exploring nature.
Join the fun and play outside! Get more inspiration from The Outsideologist Project on Instagram and Facebook! Share your outdoor adventures with us by tagging #GetOutside.
Find Claritin® on Facebook & Instagram.
GIVEAWAY HAS ENDED for the Outsideologist Project Kit, from the makers of Claritin®. Each kit includes items to inspire your child's outdoor exploration as well as samples of Children's and Adult's Claritin® so Outsideologists of all ages can get the powerful, non-drowsy allergy relief they need to embrace the wonders of the great outdoors. Use as directed. Prize valued at $60. Click HERE to enter!

NO PURCHASE IS NECESSARY TO ENTER OR WIN. Sweepstakes is open to legal residents of the United States who are at least 18 years of age at the time of entry. Sweepstakes commences at 12:00AM ET on 7/16/21 and ends at 11:59 PM ET on 8/16/21. Subject to Official Rules HERE. For prize descriptions see Official Rules.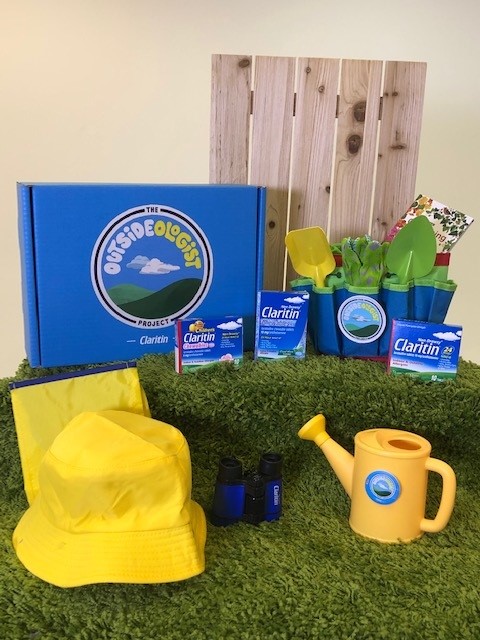 SIGN UP FOR Macaroni Kid Sandy Springs-Dunwoody-Chamblee-Doraville FREE weekly newsletter HERE! Each week, you will receive fresh new ideas for family-friendly events in/around town.